Sound and Vibration Instrument Hire and Calibration
Noise Measurement Equipment Hire
We hire a range of certified noise measurement equipment, supplied by the leading manufacturers and in accordance with the relevant British and ISO Standards.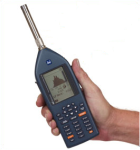 The most popular noise survey meters we hire are the B&K 2238, B&K 2240, and Norsonic 116, all Class 1 Precision Leq - Integrating Sound Level Meters.
When octave and 1/3 octave band information and more detailed analysis is also required, the B&K 2250, Nor 118, Nor 140 and NTi XL2 multi-function analysers are recommended, see our Noise Meter Comparison Table.
For longer term outdoor measurements, we hire environmental noise monitoring kits, complete with Bruel & Kjaer or GRAS outdoor microphones and our meter enclosures with rechargeable batteries. Anemometers and Weather Stations are also available.
To measure noise nuisance 'securely' inside a complainants property we have the Bruel & Kjaer Matron 3 systems.
Sound Insulation and Building Acoustics are specific types of noise measurements so have their own sections.
You may also be interested in reading our Introduction to Sound Level Meters.
The instruments in this section are listed alphabetically by manufacturer, click a blue link for more details, calibrators and other accessories.
Alternatively if you are not sure then call 01234 708835 to discuss your application.
| Type No. Certified Noise Measurement Equipment for Hire - Class 1 | Daily Hire * |
| --- | --- |
See also our full range of Sound Level Meters
* Our standard hire charges are based on a 4-day minimum period,
details and options