Sound and Vibration Instrument Hire and Calibration
Brüel & Kjær 2240 Noise Survey Meter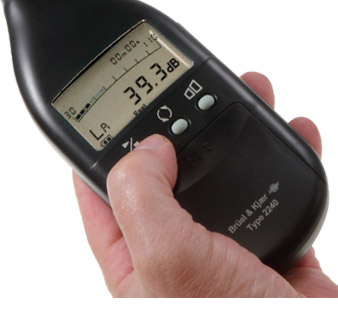 Call 01234 708835 to discuss your application
| B&K 2240 Noise Survey Meter - Class 1 Precision Grade | £ 10 a day * |
| --- | --- |
A low-cost, Class 1 sound level meter conforming to international standards. The three-button user-interface and large digital display make it easy to use for on-the-spot measurements.
Equipped with a Type 4188 microphone, it simultaneously measures all of the most important environmental noise parameters over a measurement period from 1 second to 60 minutes.
Uses
Assessment of environmental noise levels
Measurement of occupational noise in the workplace
General-purpose sound pressure level measurements, e.g. to check PA systems or household installations
Features
Precision measurements conforming to the latest standards
Dynamic range: 30 - 140 dB in two 80 dB ranges
Handy and lightweight
Large and clear display
16 hour battery life from two AA cells
Just point and measure
In just two seconds, the sound level meter is powered-up and ready to measure.
No setup required
All parameters - LAF, LAFmax, LAeq, LCpeak - are measured as standard, so there is no danger of accidental errors.
Can be used by anyone
The simple, clear interface means no training is required, and a sliding front cover reveals a quick reference guide to help if there is ever any doubt about the instrument's functionality.
B&K 2240 Manufacturer's Specifications
Popular Accessories
See also our full Sound Level Meter List and Sound Level Meter Comparison Table.
* Our standard hire charges are based on a 4-day minimum period,
details other options
.