Sound and Vibration Instrument Hire and Calibration
Norsonic 118 Real Time Sound Level Meters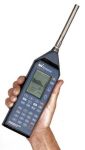 | Nor 118 : Real Time Meter - filters, statistics, level v time | £ 24 a day * |
| --- | --- |
Basic Instrument Features
Simultaneous A-weighted levels with either C or Z-weighted levels
120 dB dynamic range in a single measurement
Fast, Slow or Impulse time constants - F, S or I
High-speed RS-232 serial interface, 115 kbaud
High-resolution graphical back-light display
Numeric table display
Large internal memory - 5 MB or 2.5 million values
Manual or automatic storage of results
Automatic repeat measurements with clock synchronization
Noise measurement duration selectable from 1 second to 99 hours
Pause/Continue function with option to delete last 10 seconds
AC output - order cable is required
Battery life up to 12 hours
Additional Options and Features supplied with our Nor 118 Analysers
For full details click any link and/or see the
Manufacturer's Specifications
For even more features see the
Nor 118 +
. For more basic measurements see the
Nor 116
The Nor 118 is also delivered with microphone, preamplifier, batteries and windshield all in a carrying case together with calibration certificates for the meter, microphone and preamplifier.
Also included is the
Nor 1020
software and a download cable, one set per hire. If you require extra copies, they are available at the list price.
We stock a wide range of accessories, order what you want and only pay for what you need
Popular Accessories
Sound level meters and particularly microphones are very susceptible to damp, so should not be used outside, unless protected - see our environmental kits.
Environmental Noise Kits
| Nor 118 : Environmental Noise Kit | £ 35 a day * |
| --- | --- |
We recommend you add a precision
Nor 1251 calibrator
if you don't already have one.
Noise at Work Kits
| Nor 118 : Noise at Work Kit | £ 29 a day * |
| --- | --- |
We also hire
Windows laptops
loaded with the Nor 1020 PC software.
See also our full
sound level meter
list and
sound level meter comparison table
* Our standard hire charges are based on a 4-day minimum period,
details other options
.