The Sound and Vibration Instrument Hire and Calibration Specialists
Sound Level Meter Hire : Daily Hire Rates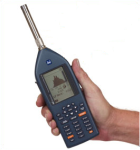 Full range of certified sound level meters, analysers and accessories, available for hire now, supplied by the leading manufacturers and backed by our 40+ years experience of sound level measurements
This page lists the most popular sound level meters, click a blue link for details.
State of the Art certified sound level meters delivered overnight.
Short term daily rates or contract hire arrangements.
To discuss your application - call 01234 708835
If you are new to noise measurements see our Introduction to Sound Level Meters, Guide to Measurements and comprehensive Glossary.
| Popular Sound Pressure Level Meters, Analysers and Accessories | Daily Cost * |
| --- | --- |
B&K 2236 : Bruel & Kjaer Sound Level Meter - meets the stringent standards for noise at work and other general noise measurements ..
£ 12
B&K 2238 : Bruel & Kjaer Mediator - precision sound level meter + statistical analysis, logging and serial frequency analysis ..
Other options available include :
Noise at Work Kits
Outdoor Sound Level Meters Kits
£ 17
B&K 2240 : Bruel & Kjaer Sound Level Meter - Class 1, simple to use, just point and measure, various parameters measured simultaneously. Complies with latest standards ..
£ 10
B&K 2250 : Bruel & Kjaer Multi-function, Leq Sound Level Meter, wideband, frequency, statistical analysis and sound recording ..
Other options available include :
Enhanced Logging
Noise at Work Kits
Noise Nuisance Recording System - Matron 3
Outdoor Sound Level Meter Kits
Reverberation Time Meter
Sound Insulation - airborne and impact Kits
Tone Assessment and FFT Analysis
Vibration Measurement and Analysis
Vibration Measurement and Analysis with FFT

£ 25
B&K 2260B : Bruel & Kjaer Investigator - precision sound level meter with real-time displays of 1/3-octave and octave spectra and statistical distributions ..

£ 22
B&K 2260D : Bruel & Kjaer Sound Insulation Analyser, in accordance with the relevant BSI and ISO Standards.
Other options available:
Sound Insulation Measurement Kits - Airborne
Sound Insulation Measurement Kits - Airborne and Impact
£ 34
B&K 2260E : Bruel & Kjaer Sound Intensity Analyser

CEL 350 and 352 : Casella CEL Personal Noise Dosimeters - easy to use noise dBadge monitor - meets BS EN 61252 and the Daily Noise Exposure LEP,d requirements. The 352 version includes an additional C - A feature ..
Other options available
CEL 350 and 352 dBadge Noise Dosimeter Kits
£ 10
CEL 460 : Casella CEL Noise Dosimeter - personal monitor, measures daily dose, % dose, projected % dose, Leq and Sound exposure .. details
Nor 116 : Norsonic Class 1 Sound Level Meter - ideal for monitoring, level vs time, Leq, Lmax, Lmin, SEL, Peak plus Ln values ..
Other options available include:
Noise at Work Kit
Outdoor Sound Level Meter Kits
£ 12
Nor 118 : Norsonic Sound Level Meter - filters, statistics and level v time - Class 1 ..
Other options available include:
Noise at Work Kits
Outdoor Sound Level Meter Kits
£ 22
Nor 118+ Norsonic Precision Sound Analyser - standard Nor 118 plus many extra features ..
Other options available include:
Noise at Work Kits
Outdoor Sound Level Meter Kits
Sound Power Measurements
Multi-spectrum Measurements
£ 32
Nor 140 : Norsonic Sound Level Analyser - filters, statistics, level v time histories ..
Other available options include
Noise at Work Kits
Outdoor Sound Level Meter Kits
£ 25
NTi XL2 : NTi Audio : Class 1 Sound Analyser - filters, statistics, level v time, sound level recoding, reverberation time measurements ..
Other available options include
Noise at Work Kits
Outdoor Sound Level Meter Kits
STIPA - Speech Intelligibility meter
£ 25
SVAN 945A : Svantek Sound Level Meter and frequency analyser, Class 1.
£ 18
See also : Sound Level Meters - the basics
* Our standard hire charges are based on a 4-day minimum period,
details, other options