Sound and Vibration Instrument Hire and Calibration
CEL 350 and 352 Personal Noise Dosimeters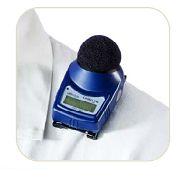 | CEL 350 : Personal Noise Dosimeter - dBadge | £ 10 a day * |
| --- | --- |
| CEL 352 : Personal Noise Dosimeter - dBadge *** | £ 10 a day * |
| --- | --- |
Easy to use personal noise dosimeter - meets BS EN 61252 and the LEP,d - Daily Noise Exposure requirements. The 'cable-free' microphone is integral with the dose badge which clips onto the lapel.
*** The CEL 352 is identical to the CEL 350 except it also includes a C minus A measurement, which some customers need. Please specify the 352 version if required.
Features
Compact, rugged design
No cables to damage and get in the way
Measures and logs all workplace noise parameters
32-hour battery life, charging time 90 minutes
Simple auto-calibration function
Display shows measurement status and data - may be switched off
Unique LED action level alarm functions
Comprehensive software package included
Applications
Measuring personal noise dose [
Exposure
]
Assessing and monitoring noise in the workplace
Ensuring compliance with the Workplace Noise Regulations
Hire Package includes:- the meter, a 1/2" microphone built-in and windshield, plus a CEL 6363 3-way charger with a mains supply all in a small carrying case.
Also included is the
dB35
- CEL 6357 software with an infrared USB interface cable for downloading the results to a PC, one set per hire. If you require extra software packages, they are available at the
list price
.
A CEL 282 Calibrator is highly recommended, for on-site verification, but not included automatically because many customers hire several 350s, but only need one set of accessories. This way you order what you want and only pay for what you need.
We also hire
Windows laptops
loaded with the above PC software.
Manufacturer's Specifications
Noise Dosimeter Kits
| CEL 350 | Noise Dosimeter Kits | £ 12 a day * |
| --- | --- | --- |
| CEL 350 | dBadge Noise Dosimeter ** | |
| CEL 282 | Sound Calibrator | |
** Order the CEL 352 version if preferred
* Our standard hire charges are based on a 4-day minimum period,
details other options
.