Sound and Vibration Instrument Hire and Calibration
Norsonic Sound Level Meter and Analyser Hire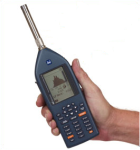 We hire noise and vibration meters including a range of Norsonic instruments and accessories, see the list below,
click a link for more details
All our meters, microphones, accelerometers etc., are delivered with current calibration certificates, traceable to NPL and UKAS and our ISO 9001 laboratory is audited by British Standards.
Gracey & Associates are an independent organisation with over 40 years experience of sound and vibration measurements.
Hiring from us is the cost effective solution with overnight access to the best instrumentation available anywhere.
| Norsonic : Certified Sound Measurement Instrumentation | Daily Hire * |
| --- | --- |
| Norsonic Accessories | Daily Hire * |
| --- | --- |
| | |
| --- | --- |
| Nor 1020 : Windows Software - Nor-Xfer - data transfer | £ 2 |
| Nor 1201 : Preamplifier - 1/2" with Lemo 1B connector - add extension cables if required | £ 3 |
| Nor 1211 : Environmental Microphone System - see GRAS 41AL | |
| Nor 1220 : Measurement Microphone - 1/2" air condenser - free-field | £ 4 |
| Nor 1225 : Measurement Microphone - 1/2" air condenser - free-field | £ 4 |
| Nor 1251 : Sound Calibrator - class 1 | £ 3 |
| Nor 1252 : Sound Calibrator - class 2 - superseded by the Nor 1251 | |
| Nor 1261 : Tripod adaptor for 1/2" preamplifier | £ 1 |
| Nor 1262 : Tripod adaptor for 1/2" preamplifier, adjustable | £ 2 |
| Nor 1264 : Tripod adaptor for low level measurements, twin microphone holder | £ 2 |
| Nor 1270 : Accelerometer - IEPE type - see Nor 1505 accelerometer kit | |
| Nor 1406 : Cable - Lemo 1B socket to 7-pin B&K plug, 2 m | £ 1 |
| Nor 1408 : Cable - microphone preamplifier extension - 7pin Lemo, 10 m | £ 2 |
| Nor 1410 : Cable - microphone preamplifier extension - 7pin Lemo, 2 m | £ 1 |
| Nor 1430 : Cable - tape, under doors, windows etc., 7pin Lemo plugs | £ 1 |
| Nor 1434 : Windscreen - 90 mm Ø | £ 1 |
| Nor 1437 : Cable - Lemo 1B plug to 7-pin B&K free socket - 0.2 m | £ 1 |
| Nor 1438 : Cable - Lemo 1B plug to BNC plug | £ 1 |
| Nor 1441 : Cable - Nor 116 and 118 to PC 9-pin - serial interface | £ 1 |
| Nor 1442 : Cable - Nor 116 AC output to BNC plugs - Flat and A-weighted - 1 m | £ 1 |
| Nor 1443 : Adaptor - 1/2" for 1251 and 1253 calibrators | £ 1 |
| Nor 1444 : adaptor - 1/4" for 1251 and 1253 calibrators | £ 1 |
| Nor 1447 : Adaptor - 1/2" preamplifier to BNC socket | £ 2 |
| Nor 1448 : Dummy microphone - 1/2" with 18 pF equivalent capacitance | £ 2 |
| Nor 1456 : Adaptor - accelerometer ~ TNC plug | £ 1 |
| Nor 1466 : Adaptor - 10-32 UNF accelerometer socket to BNC plug | £ 1 |
| Nor 1479 : Calibration adaptor - see GRAS RA0010 | |
| Nor 1494 : Cable - Nor 260 power amplifier to 250 hemi-dodecahedron speaker | £ 1 |
| Nor 1505 : Accelerometer Set - 1270 accelerometer | £ 5 |
| Nor 4514 : Cable - Nor 118 and 140 - AC/Noise Generator output to BNC | £ 1 |
* Our standard hire charges are based on a 4-day minimum period,
details other options