Sound and Vibration Instrument Hire and Calibration
Bruel & Kjaer PC Software - Sound and Vibration
| B&K 7815 : Noise Explorer Software | £ 2 a day * |
| --- | --- |
Noise Explorer™
is a Windows® based software package for downloading and reporting noise and vibration data measured with Bruel & Kjaer hand-held instruments.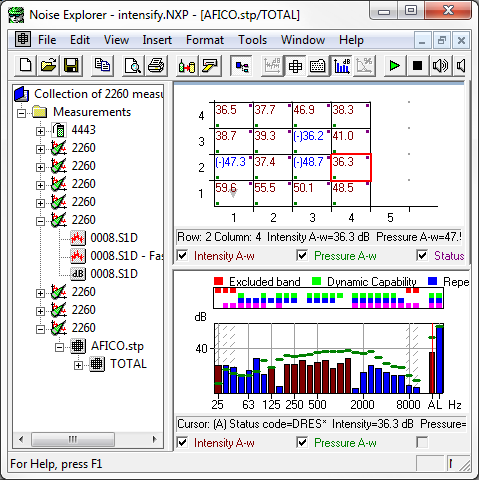 Sound intensity measurements made with the 2260 Investigator sound intensity system may be viewed and manipulated in Noise Explorer.
Uses
Data transfer from hand-held sound level meters and analysers to PC
Formatting data for export to spreadsheets, noise mapping software or the Windows clipboard
Displaying & printing measurement results in graphical or tabular form
Storage and management of measurement files on a PC
Calculating Sound Power or Sound Reduction Index from sound intensity measurements
Supported Instruments
- B&K
2236
,
2238
,
2250
and
2260
and
2537
B&K have a FAQ - frequently asked question page relating to the 7815 software. To get to the link click
here
.
| B&K 7820 : Evaluator Software | £ 4 a day * |
| --- | --- |
Calculation of Rating Level
- Windows® based software for environmental noise evaluation. Measurement data may be edited and combined to calculate a rating level for the noise source in question
Complete solution for the determination of the Rating Levels according to BS 4142 and other national standards.
A Rating Level is a single value for evaluating the potential nuisance factor of noise. It takes into account time of day, nature of the noise (impulsive, pure tones present) as well as the overall levels of the noise.
Uses
Calculation of rating levels according to national and international standards
Noise profile measurement
Industrial noise
Residential noise
Road and rail traffic noise
Evaluation of noise in the environment against noise limits according to national and international standards
Supported Instruments
- B&K
2236
,
2238
,
2250
and
2260
and
2537
B&K have a FAQ - frequently asked question page relating to the 7820 Evaluator software. To get to the link click
here
.
| B&K 7830 : Qualifier Software | £ 4 a day * |
| --- | --- |
Building Acoustics Software
- Windows® based software.
Having made airborne, impact or reverberation time measurements with a
2250 Building Acoustics Analyser
or a
2260D Analyser
, use the 7830 Qualifier software running on a PC to post-process and document your results.
Using Qualifier's spreadsheet-like data sheets, it is possible to manually adjust data used in calculations, for example, to change levels or reverberation times. The results can be observed immediately.
Reverberation-time measurements may be averaged in two ways: either averaging of reverberation times (T20 and T30) or averaging of decay curves (multi spectra), also called ensemble averaging.
This mode has the advantage of producing an average decay curve (multi spectrum) for each frequency band. Extensive documentation facilities are available. These allow items such as SRI graphs and text to be entered into a report and sent to the printer. Graphs can also be exported via the clipboard.
B&K have a FAQ - frequently asked question page relating to the 7830 Qualifier software on their web site.
B&K BZ 5503 : PC Software -

included with type 2250 meters
The BZ 5503 Software is included with the type 2250. It is Bruel & Kjaer's state-of-the-art data viewing and post-processing toolbox for Environmental noise and vibration professionals, designed to give the quickest route from measurement data to finished report.
The standard configuration, which is free to all users, provides data archiving, preview, and export capabilities, as well as software maintenance and remote online display.
In addition to the standard configuration, optional Logging, Spectrum and WAV file analysis modules are available, adding advanced post-processing capability to help you quickly complete your post processing tasks.
Uses
Data download, viewing and archiving
Sound level meter software maintenance
Online display and remote access and operation
In-office post-processing and export to other formats
Features
Import, archive, display and export
Overview of archives and users
Detailed view of data
Exporting of annotations (notes, metadata, etc.)
Pack and go' for e-mail exchange of archives
Resume downloads
View GPS coordinates in Google Maps™
Advanced support of WAV files
Optional subscription based post-processing modules
The BZ 5503 software is supplied on a USB Drive, free of charge with our
2250 meter(s)
but we recommend you hire the
B&K 7815
or the
B&K 7820
software - described above to view and manipulate the results downloaded by the BZ 5503
| B&K VP 7670 Link 2236, 2238, 2260 and 2537 Software | £ 1 a day * |
| --- | --- |
Simple Windows based software for transferring results from B&K analyser to older PCs. It runs on most XP systems but there is no guarantee your system is compatible.
The software's graphical interface makes it simple to download measurement records and display them in a spreadsheet - includes :
CTL_link - B&K VP 7666 for
2537
meters
Software and manual supplied on a USB Drive * *
---
* * if your PC only has USB connectors, then a Serial to USB adaptor is required, available from most PC shops, or give us a call.
We also have a few
Windows laptops
loaded with the above B&K software for hire
* Our standard hire charges are based on a 4-day minimum period,
details other options
.