Sound and Vibration Instrument Hire and Calibration
Bruel & Kjaer 4447 Specifications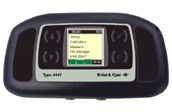 The B&K 4447 has been withdrawn, the following information is for reference purposes only.
| B&K 4447 : Human Vibration Meter - HAVS Assessment | £ 24 a day * |
| --- | --- |
Complies with the following National and International Standards
BS EN ISO 8041-2005 Technical specification
BS EN ISO 5349-2: 2001 Hand arm
BS ISO 2631-1: 1997 Whole body
BS EN 1032-2003: Mechanical vibration
EU Dir. 2002/44/EC
Supplied Accelerometer
Type: 4520-002
Sensitivity: 10 mV/g
Frequency: 2 Hz to 7 kHz
Seat Pad Accelerometer
- if included
Type: 4515-B-002 seat pad with type 4524-B triaxial accelerometer
Sensitivity: 100 mV/g
Frequency: 0.25 Hz to 900 Hz
Dynamic Range
The useful range of Type 4447 is from 3 mV to approx. 3.4 V (more than 60 dB)
Noise
Noise Level: < 3 mV
During high levels of RF airborne emission, noise level may increase
Detector
Simultaneous measurement of peak and
rms
vibration value for each channel
Frequency Weighting
Filters for frequency weightings are calculated in the time domain to conform to ISO 8041-2005, including filters Wh, Wd and Wg. Other frequency curves can be added on request
Display
Sony Colour graphical display with a resolution of 124 x 124 pixels. Basic information regarding the instrument status is shown through icons, including: battery indicator; measurement status; run; pause; stop; input type; "U" as direct or voltage input or "OK" as DeltaTron input: Overload (OVL) or Short (SHT) circuit and real time or elapsed time.
Measuring Parameters
Measured parameters are selected according to the selected setup mode. The following parameters are measured and calculated during measurement: Time Averaged Weighted Acceleration Value (TAWAV); Maximum Transient Vibration (MTVV);
Vibration Dose Value (VDV)
; Motion Sickness Vibration Dose (MSDV); running rms acceleration value
Shock Limits
Max. Shock: 5000 g
Higher shock values can be obtained by the use of dedicated shock accelerometers
Memory
64 KB or 750 measurements can be stored in non-volatile memory
USB Interface
Conforms to USB 2.0
Connector: Mini B
Clock
Real-time clock with calendar
Calibration
Reference Vibration Value: 10 m/s
Reference Frequency: 159.2 Hz
Reference Electrical Level: 100 mV for 4515-B-002 and 10 mV for 4520
Battery
Rechargeable Li-ion battery 3.7V, 2400mA. More than 3.5h continuous use at room temperature
Caution - the internal re-chargeable batteries only last 3 hours a day. If mains is available locally, this is not a problem.
Physical Dimensions
Size: 70 x 135 x 28 mm ( 2.7 x 5.3 x 1.1" )
Weight: 260 g ( 9.2 oz ) battery included
See also our main
Hand Arm Vibration White Finger and Whole Body Vibration
web page
E&OE - specifications subject to change without notice.
* Our standard hire charges are based on a 4-day minimum period,
details other options
.